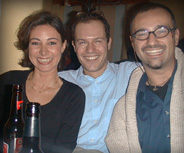 Above: Debby, Carlo and myself.
Yap, aren't they cute? They managed to make 2 beautiful sons: Leonardo and Luca!!!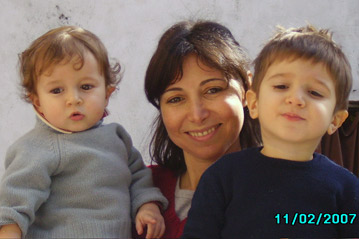 [PAST]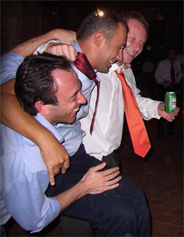 Above: Paolo, someone that I was not able to recognize and Giampi holding a beer before collapsing to the floor!!!
[PAST]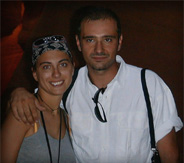 Above: Annalisa and myself. I can't say anything bad about her because she can find me anyplace!!!
PAST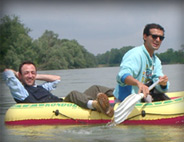 Above: Paolo (yes, again!!!) and Claude, also known as "il Cinghiale" (do not ask why)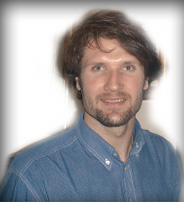 Above: Giovanni. I have to get a picture of Sam (his girlfriend) as well: she deserves to be here, as she was able to survive living with Giovanni for a couple of years now!!!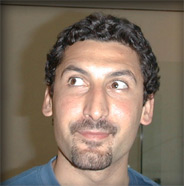 Ettore: I do not always understand him, but I guess I have to take him as he comes. This is what friends are for, after all!!! He has done two beautiful things in his life: they are twins!!!


Wait a second what about
[PAOLO, Diego, Giovanni and Ettore Remote PAST]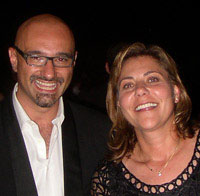 Above: Bev from San Diego. Actually the accent is so bad that it gives her away in two seconds that she is not really from California!!! She is funny, smart, strong, with a smile that can illuminate a dark room and... single...
Interested...??? Send me an email!!! I will just forward it, I will make no screening in this case as I have really no grounds to judge guys!!!




Above: Hana & Tom. Hana is very special!!! Beside being the only Japanese that speaks Italian with a strong "BRIANZOLO" accent in NY (and probably in Italy as well!!!) she has been trough the same troubles that I had, same struggles, same issues of a poor immigrant in a foreign country!!!
She has the most joyous laugh like one of a baby-girl!!! She is sweet but also stubborn and hard headed (like most Italian women): good luck Tom!!!
PS I strongly hope for Tom that she improves her cooking skills now that she is married!!!
;-)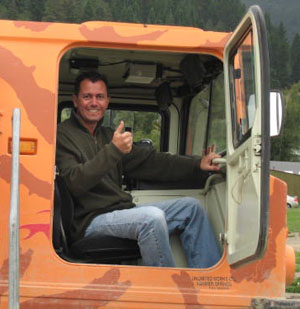 I have not been a good friend to Luca and I am not a good judge of character after all... We have shared fun, yet I didn't realize that he was calling when he needed someone the most. You are going to be missed.
May you find peace.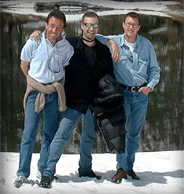 Above: Paolo, Diego and Andrea.
[PAST]


In the picture below, the sweet angel between Andrea and myself is Simona (Andrea's wife). Actually now the family has grown to 4 people: Andrea, Simona, Federico and Beatrice, as can be clearly seen down below!!!!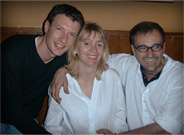 [PAST]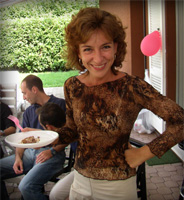 Above: Laura. She looks dangerous, but she is as sweet as sugar. [PAST]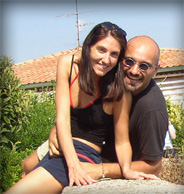 Above: Cri and myself. She is definitely an hot Italian woman (and what a fiery hot Italian woman!!!) even if she was born by mistake in Connecticut!!! She sure is adorable
[» more]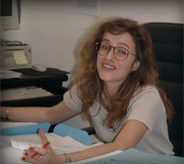 Above: Dani. Be aware, behind the sweetest smile, she hides the hearth of an accountant!!!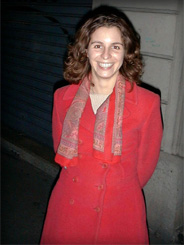 Above: Chiara. She is fighting to defend human rights in Timor East, nop... wait ...Ivory Coast at the moment... nop, wait.... in Etiopia... nop, wait Iran... nop, she is in Afghanistan now. It's so easy to loose track!!! She is not an activist in some strange group, she works for the U.N. Name any unpleasant war situation: she has lived it!!!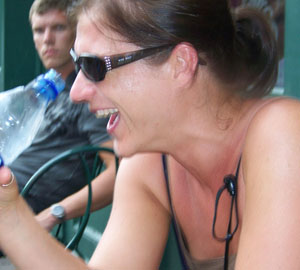 Lady Shaney... when we met, I knew she had a dangerous smile. Everybody has a friend that is unpredictable and potentially a source of embarrassment for some situations. Usually that's me for some of my people. Well, Shaney... she is mine!!! Hard to believe. Extremely spontaneous, totally not controllable, a force of nature (and hot... so people is already staring at you Shaney, for other reasons!!!). I think she is the only person I know, able to make me think something like "please God nooooo, tell me she's not gonna do that... ". A couple of time I almost wished I could disappear under the table... She is just perfect!!!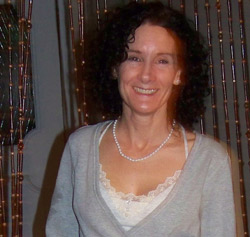 Crystal: Just knowing her can make you feel a better person!!! The most gentle soul I have ever met. Just a little bit dangerous with communication devices. If I receive one more 6 pages long email with the subject "Why is he not calling me" I might be tempted to give up modern society and retire in a cave with no electricity. Or maybe not, she would have no problem training pigeons and find me: I am doomed!!!
Crystal, you are beautiful, smart and funny... you do not need a guy!!! Guys are totally useless!!! ,,, darn, did I just say that???